PAMO wins Honorable Mention at Tomorrow's Workplace Design Competition, presented by Metropolis and Staples Business Advantage.


P A M O (Prefabricated Adaptive Mobile Offices)
: Repurposing post-industrial warehouses to workplaces

Future office = Gallery for knowledge networking and collaboration

PAMO suggests a gallery-like space for people to walk and talk, with nodes for collaboration and reflection. This system allows for the adaptive reuse of any space, such as an abandoned warehouse or factory, maximizing the sustainability of the concept by minimizing traditional construction and waste related to typical new-builds and renovations. PAMO focuses on the functional opportunities post industrial open plans present for the use of movable prefabricated modules. It is an embrace of the changing operating environment within the office from a mode of individual efficiency and communication to a fluid networking of knowledge and collaboration, freed from the traditional office setting. With this proposal, the time we sit on personal computers is minimized and an open framework of a knowledge market and well-being within the office is suggested.




Better Ergonomics =
More walking + More talking

Mobile devices and remote access to collaborative working environments are challenging the meaning of the physical 'permanence' in office architecture. As new technology accelerates the working culture and combines it with more flexible social lives, integrated with leisure and a family oriented environment. It will push people walk and talk to each other more than sitting at a designated workstation in an open office would allow. This is a need that configuration, capacity and efficiency of workstations cannot respond to. The space between workstations becomes the core space of production. In an idea-focused office environment we allow increasing technological efficiencies reduce production times while allowing more time for fluid creativity between workers.



Fluid Technology + Prefabrication = Office can happen anywhere

As prefabrication in architecture combines with post industrial warehouses, the office becomes more like a gallery and cafe. Work that used to require a trip and physical contact can now be conducted through a mobile phone while meeting with specialists across the globe. The digital age has connected us to our peers and our shared knowledge base with unprecedented speed. PAMO creates an open framework that can grow or shrink depending on the changing environment within which workers can be as fluid as the technology around them.




Sustainability and Flexibility =
Investment for the Future

While our technologies continue pushing the boundaries of how we work, PAMO has the ability to respond as rapidly as these changes occur without the logistical and time limitations of traditional construction and renovation. This flexible capacity, lower leasing costs, mobility of workplaces, and reduced time sitting at a designated workstation, allows technology to do what it does best in assisting us with production and communication while allowing people to focus on what technology cannot afford us - that is, the meaningful, creative interaction that spawns ideas and changes our world - while establishing a working environment within which a healthier lifestyle is not only promoted, but is required.



Sustainability for the Open Framework

Thanks to the development of manufacturing technology, prefabricated units finished at an off-site factory can provide the modules for all programmatic needs of schools, exhibitions, living, and office spaces. The configuration of larger spaces is composed of aggregations of the base unit - a 3.65m x 5m module. Two of them(3.65m x 10m) create small studio/dorm unit. Four of them (7.3m x 10m) create a gathering space, small library, outdoor cafe or lobby space. There are also walkway units and garden units (3.65m x 1.52m) connecting programs. Post-occupancy evaluation can constantly inform fast and non-intrusive changes to module configurations. Direction of walkways can change, green modules can be added, program space can expand or shrink via the easy mechanical hookup and the mobility of each unit.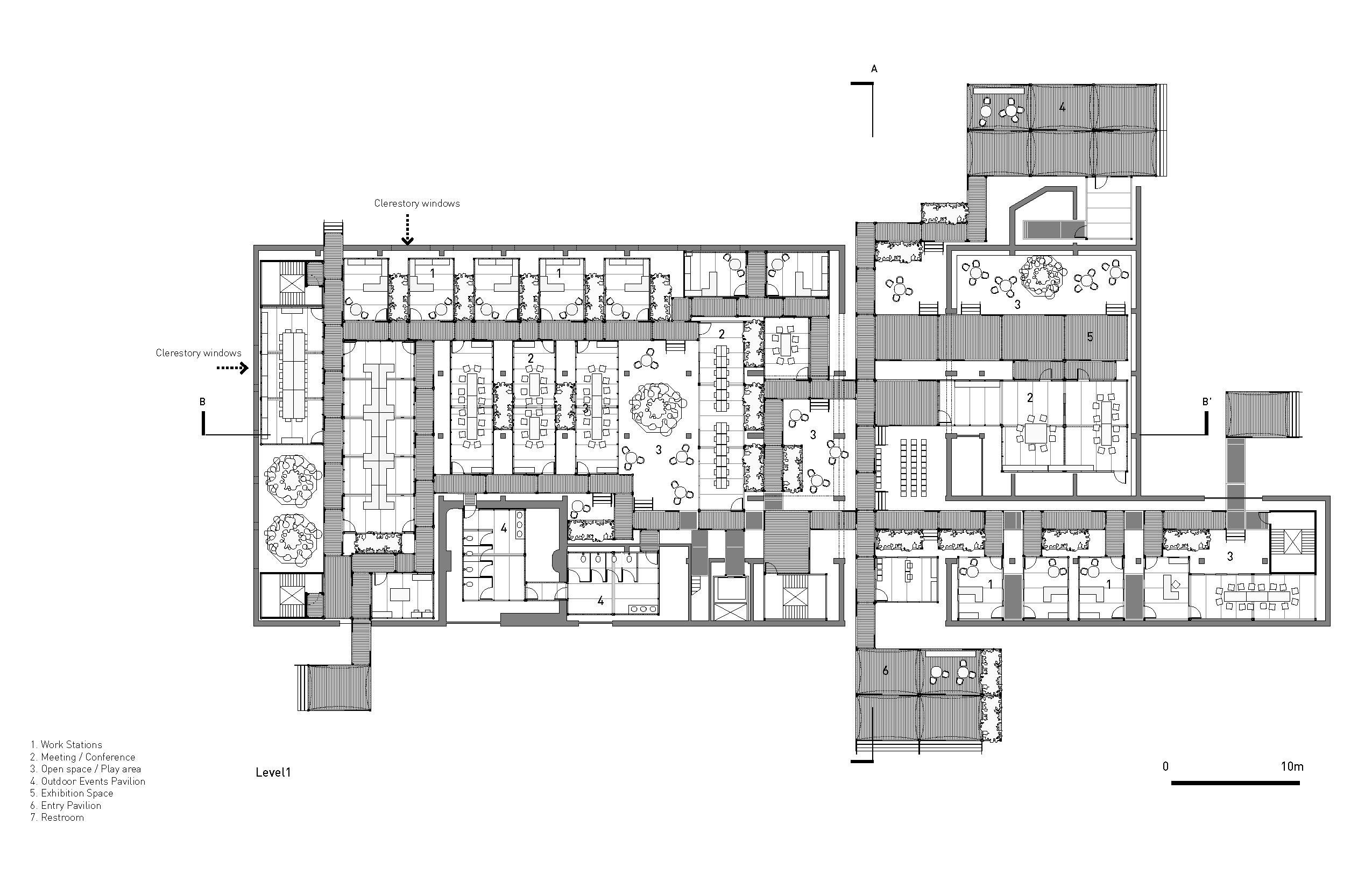 Team: Jin Young Song with Andrew Koudlai